These pics are from the 1999 workshop. Pics of 2000 are forthcoming.
Click on the pic for a better view
Photos©1999, T.Salloum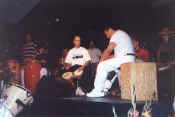 Trevor Salloum & Alex Acuna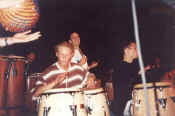 Trevor Salloum w/students
THE SECOND ANNUAL LATIN PERCUSSION WORKSHOP
AT HOLLYHOCK RESORT
The second annual Latin percussion workshop was held July 19-24,2000. Featured presenters Armando Peraza and Trevor Salloum provided classes in popular and folkloric styles of Afro-Cuban music including danzon, bolero, son, mambo, jazz, caballo negro, gaga, vodu, rumba and iyesa. Armando shared his captivating stories of growing up in Cuba and the United States. He demonstrated the rhythms that made him famous and those he developed and performed on the classic recordings with jazz and Latin legends. He discussed his work with some of the luminaries of American jazz and Latin music including Perez Prado, George Shearing, Cal Tjader and Santana.

Trevor shared numerous rhythms, songs and fundamental techniques he learned in his travels to Cuba. In addition, he demonstrated various
rhythms from his bongo books and upcoming book Afro-Latin Polyrhythms (Mel Bay Publications). The dayís activities started with a 30 minute conditioning class developed for percussionists by physiotherapist Simone Manfredi. Morning and evening percussion sessions included all participants while afternoon sessions were divided between beginner and advanced levels.
The event was a huge success with participants coming from as far as
Inuvik, North West Territories and the eastern United States. The 5 day workshop culminated in a sold-out concert at Mansonís Hall featuring Armando, Trevor and course participants. By the end of the night an encore had everyone on their feet dancing and singing to a classic Cuban comparsa.

The event was sponsored by LP Music Group.

Hollyhock Resort is situated on beautiful Cortes Island, which is
approximately a six hour drive from Vancouver, British Columbia. The
resort is known for its majestic beauty, sparkling waters, fresh air,
peaceful forests, gourmet vegetarian meals and comfortable cabins. Plans are presently underway for next yearís event. For more information call Hollyhock Resort at 1-800-933-6339