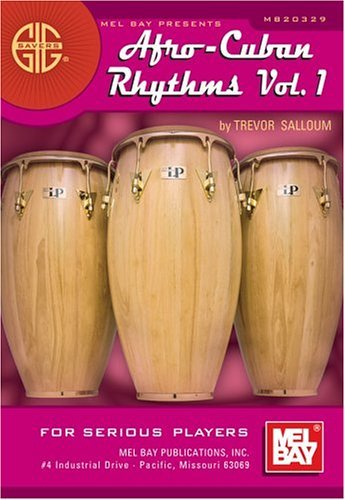 Afro Cuban Rhythms Vol 1 & 2
by Trevor Salloum
Review by Eric Stuer
From Mel Bay and Trevor Salloum, the author of The Bongo Book, these two little volumes are reference manuals to some of the core AfroCuban Rhythms. They contain a lot of information for less than the price of a fast food meal, in a perfect size to slip into a gig bag or drum case and take along with you.
Volume 1 includes Tumbao, Yambu, two variations of Guaguanco (Matanzas and Havana)and three variations of the Conga (Matanzas, Havana, and Santiago)
Volume 2 includes Bembé, Makuta, Yuka, Palo, Arará, Abakuá (Havana), Abakuá (Matanzas), Gaga, Vuda, and Iyesá
The booklets were originally compiled in response to his students' requests. They are notated in standard musical notation, and not designed to replace a teacher.
To quote from the introduction, "No book can replicate the value of studying with a teacher, hearing live concerts or recordings of these rhythms."
He goes on to say, "This guide is intended for the intermediate to advanced level with some reading experience. If one is not familiar with drum notation, then a teacher is even more imperative." This is sound advice. Having said that, however, the rhythms are notated well, and are easy to understand for those who can read a bit. Advanced reading is not required..if you can read quarter and eighth notes and associated rests, you will be able to read through these rhythms. We have included a page from volume two, to give you an idea: the rhythm Makuta .
The author refers to these short guides as "by no means complete but simply a starting point to tantalize the taste buds of those eager for adventure in the rich world of Afro-Cuban percussion." This is a perfect description. They make handy tools when sitting down with a batch of friends to play, just to have the parts in front of you, as a starting point.
Eric Stuer, October 2004