The Taiko Page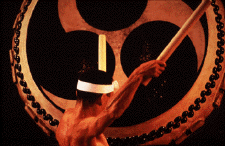 Taiko literally means 'fat drum' in Japanese.
Taiko drumming has been part of Japanese culture for many centuries. Its roots lie in the countless temples and shrines scattered all over Japan where they are played in religious festivals and ceremonies. It is said that the furthest point at which the village Taiko could be heard marked the edge of the village. Taiko also found a home in warfare, making sounds big enough to scare the enemy.
But it is only in the last forty years that Taiko has become a performance art in itself. Groups like Ondekoza and Kodo regularly bring Taiko to a global audience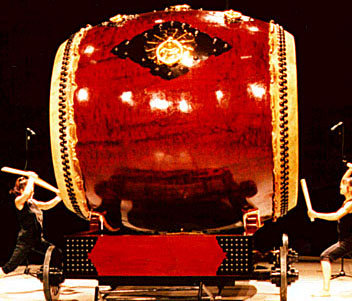 Check out the world's biggest O' Daiko, made from a 4 ton block of wood weighing over 9 feet indiameter! It took 12 peple over a year to make it. (made by Asano Taiko)
Asano Taiko One of the oldest Taiko drum manufacturers in Japan
Mochizuki Taiko Drums Handcrafted for the Most Demanding Taikoists completely awesome drums. See this site to believe.
Rolling thunder: an excellent taiko resource