Fish Skin Tar from Mid-East
Voila the underdog...
Tar, Egyptian, Fishskin, 16"
List price $59.50
Weight 3.5 lbs
16" inside tunable rosewood frame Tar with fish-skin head. Comes with a nylon zippered carrying case and a tuning tool.
We musicians have always been catalog reading hounds, down through the years, even way before the Internet. I can remember coming home from the music store with a brand new Ludwig or Gretsch drum catalog and pouring over it for hours, memorizing every page of the available equipment, thinking of the ideal setup. we're still no different today. Drum nuts. Aficionados.
The Mid-East website is good for browsing in this way, so we find ourselves returning again and again, looking at their catalog, checking out the products.
Their doumbeks and frame drums, especially, are all over the Web. We have owned and loved their ceramic narrow neck doumbeks for many years. We have been contemplating which frame drums to get. The percussion toys selection has some cost effective facilitators' tools too.
After all, Mid-East Manufacturing is the true source for the drums in a million web 'stores' and E-Bay sales. Mid-East has a legion of resellers, and yes, Rhythmweb is among them. If you need a deal, we at Rhythmweb can offer you an excellent discount on products from Mid-East. Just let us know. Give us the model number, and we'll send you a quote. Other online stores have staked their entire existence upon this catalog.
Anyway, after much returning to their frame drum page, we decided to test out this Egyptian fishskin tar. This drum appears to have the same internal tuning system that so many of the frame drums offered at Mid-East seem to have, so we knew that once we saw this one, we'd have a reasonable idea of what their other internally tuned frame drums are like. We were intrigued too, as to the fish skin..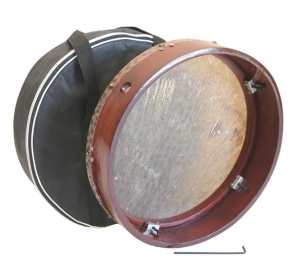 We knew that at a mere $59.50 full retail, the package would probably not stack up well to the high dollar Cooperman and Eckherman drums, but still, these drums look pretty good on the Mid-East website, despite the low price; we had to start somewhere..(Compare this $59.50 price to a REMO 16" tar at $88.00, or to Cooperman's 16" tar at $213.90) This is a drum we can afford to risk at drum circles, and we do want to add more authentic frame drums from around the world. Our curiousity got the best of us; what the hell, we ORDERED one.
When I opened the package, I remember thinking that the drum was a bit heavier than I'd imagined, but at 3 and a half pounds, it was still a quarter pound lighter than the pro Doira I recently obtained from Abbos Kosimov. The finger hole was a tiny bit too small too. Playing traditional grip became uncomfortable after awhile, although it was fine for a few minutes. I do have big hands; we really should go in there with some sandpaper or even a dremmel tool, and work on it. This is the only real drawback, but it's not an insurmountable problem...
The fish skin, however, was great. It's TOUGH, more robust, thicker and and stronger, springier than I'd hoped. The sound is very good, the shell of the drum is very sturdy and perfectly in round, and the tuning system is adequate and out of the way.
WE began to experiment with playing the drum in a freehand fashion, either placed between the knees or held vertically on one leg and the beauty and usefulness of the drum became more apparent. The fish skin sounds good, whether tuned low or high.It's rough, so it responds heartily to scratching and rubbing techniques..
It is going to be useful, and although it won't satisfy the pickiest traditional tar player or tar specialist, it makes a good frame drum when looping or playing freehand or on one leg. It works well with either a mallet or a stick, too, and will be a useful frame drum for use in drum circles..If you are handy with sandpaper or a dremmel tool, you could customize the finger hole a bit, and have a very versatile instrument.
The case is sort of flimsy, an extra, really. If it lasts you a year, you are ahead of me. Mine is gone already. But who's counting?

Mid-East has another model of tar, the [TARL16] , which retails for $49.50, with a fixed goat skin head. It is said to weigh only a pound and a half, and we were tempted to try it instead, but we balked because we wanted a tunable instrument this time. Now we shall try that one and report back to you. Tuning with a little space heater is not really too much trouble. We've been doing the coffee can drums that way for some time now..
In the meantime, we would not hesitate to recommend one of these fishskin tars, authentic Egyptian instruments which will work well for a variety of creative, recreational and educational purposes, while leaving your wallet somewhat intact. We are glad to have ours..