Irie Tones Professional Djembe
There are some who say "a djembe is a djembe is a djembe", but I say: 'You only live once. Splurge and obtain the djembe of your dreams...'
12.25" OSD wood, 24.5" full height, 9.25 " OSD base, 16 lbs -
This is my actual drum, on the right. Up close, in real life, it's GORGEOUS, a precious thing. Everyone who sees it makes some sort of covetous comment.
The skin: When I sit down and run my hand across the head, the first thing I notice is that thick, wet shaved skin beneath me, hydrated with a bit of shea butter. It's not stubbly exactly, but has just enough coarseness to remind me of the quality of the skin. That tiny hint of stubble says 'No chemical hair removers; hand done'.
The shell: It's beautiful Iroko wood, with solid one piece construction, uniform thickness, clean inside. The wood was seasoned and handcarved in in Cote d'Ivoire (Ivory Coast), oiled with shea butter and coconut oil. This wood seems like fine furniture..A rubber pad has been permanently affixed to the bottom, to keep the drum from slipping and to protect the shell. The bearing edge has been carefully redone to ensure that it is perfectly true and in round.
The drum arrived within 2 or 3 days, very well wrapped. It was immediately playable, right out of the box, and is still perfectly in tune, after 2 months, without a single diamond pulled just yet.
This instrument is now very special to me, and I treat it accordingly, with great respect. In ritual fashion, I use it only for certain situations, when it is sure to be safe, and when I am sure to be able to devote my consciousness fully to enjoying the use of it. I do not loan the drum out, nor do I bring it to group events and let just anyone bang on it. It always travels in a case, and between uses it is stored in a clean dry place, without sudden temperature and humidity changes and so on. If it is raining, I don't bring it out of the house, but play one of my trusty lug tuned Meinls instead. (They are more than adequate, but that's another review.)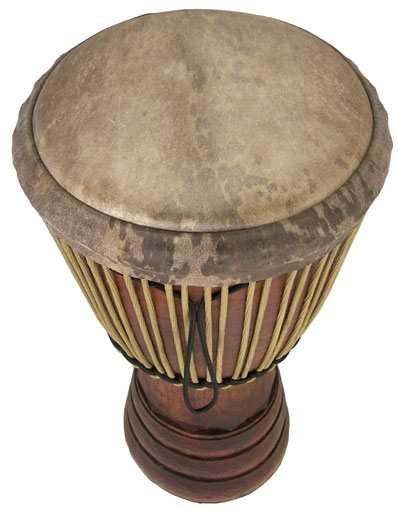 If we may quote Irietone's original text: "We are well acquainted with the various types and grades of djembes from Africa and elsewhere. When we say professional, we mean professional: top grade; superior sound; expert craftsmanship; choice materials."
Of course, there is a money back guarantee.
These days, you can go to a burger joint and easily spend ten bucks on a simple lunch..This drum retailed for $400, probably $150 or so above your normal price for a decent djembe online. The extra money required to upgrade to a djembe like this does not seem so great when one considers the quality of time spent playing an exquisite piece of work like this. How important is your music to you? To us, it was a no-brainer: We bought the DRUM! [LOL..]We are very happy that we did.
Stu Dec 2006