Sara Alexander
Born in Jerusalem, this world music artist currently lives in France. Check her out..
The School of Pythagoras an awesome reading list
Bapuji on Music and the search for God
Ethnosuperlounge is home to Shen Findell and his network of musicians, dedicated to bringing together cultures in a respectful and empowering way through music
Bradley Sowash does Chrurch hosted benefit concerts; check it out.
The Neanderthal Flute The discovery of a 43,000-82,000-year old Cave Bear femur bone segment with 4 holes in Slovenia has prompted this musicological analysis, especially in regards to the Diatonic Scale.
Why Do Civilizations Fall? An Annenberg/CPB project, this site explores the clues archaeologists put together to answer the question.
Abdu'l-Bahá on racism For those of you who STILL don't get it. . .
C. K. Ladzekpo - African Music and Dance
Arthur Hull a Founder of Community drumming in America
Arthur's Interview with Baba Olatunji is a must-read
A Quick And Dirty Guide To Doumbek Rhythms
Indonesian music a nice gamelan page
Nomius - Zen Garden wonderful nature sounds at this site. .
OrishaNet Santeria, etc.
Cora Connection: The Manding music traditions of West Africa
The Bodhrán Page drum'o the Irish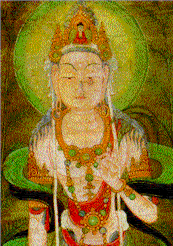 Mysticism in World Religions
Gandhi.html-(Kaustubh Nadkarni)
Cultural-expressions.com A well done site with lots of info on Yoruba culture, Ifa, etc.
Links to other sites on African Traditional Religion
Martin Luther King, Jr. a comprehensive site on this great leader
The Prophet Khalil Gibran online. . .
A John Cage Page: Cage resources on the internet
Kalani Homepage lots of links at Kalani's well planned site. . .
A Cherag's Library lots of good World Religion links
Ancient Future has an awesome site, packed with info on World Music, MIDI files, and a great links page. . .
Meister Eckhart: a medieval Christian mystic
The Music Education Launch site lots of good Music Ed Links
Timothy Leary's Page one of the best on the net
Gyuto Tantric Choir the monks...
Ancient World Web all things ancient; tons of links
Mithraism the Legacy of the Roman Empire's final State religion
All the blues links in the world....
The Official Stomp Website . way bad. . .
Mirabai: the 15th century Indian singer-saint
Sun Tzu's Chinese Philosophy Page
http://www.worldsamba.org/ the Worldwide Samba Homepage
Pagina Tambora y Guira: musica de Santo Domingo en Espanol
East African Music Tanzanian, Kenyan, Zairean, Congolese...
Ravi Shankar Institute for Music and the Perfofming arts.
The Calypso Tent of the Air from Trinidad/Tobago, a soca/calypso page :-)
Urban Shaman's Home Page An interactive multimedia electronic book focusing on personal growth and spiritual development. This site has hundreds of links, webBoard and Chat environment, and email discussion groups. A great place for enlightened conversation and growth.
No Justice, no Peace section:
the American Class System it exists, contrary to popular opinion. Here's proof.
When Corporations rule the world the truth hurts...
Greenpeace International Homepage
---

RHYTHM WEB™ and RHYTHMWEB™
are trademarks, and any unauthorized use of the names is a violation of applicable law.