Mid-East & North Africa
Welcome to our newest page! We have been keeping links to frame drumming and Goblet drumming (doumbek, tonbak, Egyptian tabla, etc) for quite some time, and have finally added a culture page to go along.. Please help us populate this page by sending your mid-eastern or northern african website link to stu at rhythmweb..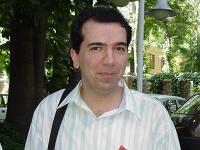 Thanks to our Tehran correspondent and drum brother Peyman Nasehpour..
The Drum Dojo Persian drumming section is incomparable; Peyman and Paul Marshall put in some very hard work in 2003 on that section..great work, boys..
for Turkish style drumming, we recommend our friend Numan Elyer, an exceptionally strong UK based percussionist.
Links
- These will be more generally Middle Eastern music and rhythm related; for more on the specific instruments, please visit the goblet drumming and the frame drum pages
Links to Middle Eastern Music Sites - This educational site has lots of bad links, but enough good ones to make it worth listing
Middle Eastern music - 82 selected links
Thanks to Chas Whittaker for many of these links
Oman Center for Traditional Music
Another Good Link on Moroccan Music
Arab Music - Part One by Ali Jihad Racy, Ph.D. and Jack Logan, Ph.D.
Peyman Nasehpour on the World Wide Web!!!
stu's note: I was fortunate to meet Peyman during the late spring of 2001. He continues to tirelessly promote his music on the World Wide Web, as a moderator of the Goblet Drumming Group and the Indian Tabla group at Yahoo, and an active member of the FrameDrummer group as well...links to his works are at right. Thanks Peyman..Keep it up!
His brother's NEW online drum shop
with
handmade Persian musical instruments