Level of Difficulty: easy

Age levels: Kindergarten to elderly.

Usefulness:
Amateur to Pro

Essential Tools: Ears, brain, various beaters..optional marble, BB's

Assemble a batch of bowls & beaters of all sizes. Include for starters pencils, chopsticks, various widths and lengths of dowel, knitting needles, small metal rods of various thicknesses, pieces of coat hanger made into beaters, dowels covered in latex tubing...don't forget the sounds that your fingers and nails can make, as well as the sound you get from playing on the metal with a brush (normally used for drumset) or a ring on your finger.

Of course, the bowls are useful when playing with others in real time. However, computer lovers that we are, we also enjoy composing at the computer

When you sit down with recording and composition tools like Sound Forge and Acid, you can make loops and alter pitches and so on. This opens up a world of sound options. The sketch "Bowl Ritual #1" was done in an hour or two with only the colander bowl at top, using the three sound files at right as our source files.. it would be interesting to see others' pieces created from these files; none would be the same..We are currently building up a huge library of found sound loops with which to compose.
Homemade percussion - Metal Bowls
homemade percussion home | Homemade Percussion workshops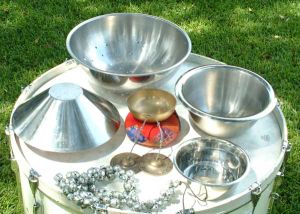 Metal sounds are meditative - etherial - subtle - powerful - complex - never to be forgotten in the search for sounds. Possibilities are everywhere, in every kitchen and housewares department on the planet..
Listen to a preliminary sketch for the Bowl Rituals series.
Bowl Ritual#1
© 2004 Eric Stuer
Because they are round, and because they are metal, bowls like these are capable of the most BEAUTIFUL sublime sounds..These are four of my favorite bowls, along with some traditional Asian instruments and a string of jingle bells from Target..IMO the traditional instruments in this picture are in good company.
With a variety of beaters and mallets, one can draw a great many different moods from a metal bowl or vase. More sound files are forthcoming.
Colander (the bowl at the top) sounds - These are the source files for the sketch above.
colander02.mp3 - this is a sample of hand playing on the bottom of the bowl, with a couple of long tones at the end which are played by resting the bottom on your palm and stroking either the edge or side of the bowl with a finger. The last long tone was obtained by reaching over and grabbing a large bass drum mallet, and making the stroke with it.
colander01-16 beat.mp3 - This is another single pass, exactly sixteen beats long, the longest of the loops used for Bowl Ritual 6.
Long tone - this is the tone from playng the side of the bowl with a single finger
All kinds of other sounds are available with a chopstick, a knitting needle, a marble (roll it around inside), BB's and so on. Let your imagination be your guide..
Making loops for use in composition as we have done here is different from live looping as done by Rick Walker and many others. The live loopers have pedals that they use to create a loop on the spot, which they then use as an ostinado, to have a groove to play over.
Interested in learning what equipment to use in such a pursuit?
See our new looping page, with Rhythmweb Electronica correspondent Rick Walker..
Listen to a few cuts from Rick Walker's "Translucent Dayglo Lime Green Plastic"
---