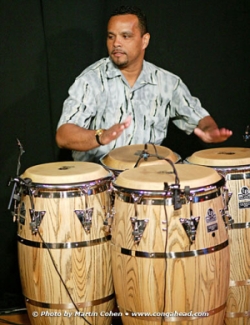 (Photo Martin Cohen)
Born in Lima, Peru 1968 , our friend Roberto "Chino" Bolaños immigrated to the United States in 1981 at age 13. His musical background came from grandfather Pepe Bolaños and his brother from Chino's mother's side of the family. Since a kid, Chino was always interested in percussion, always liking the sound of the drums.

He has been working professionally for many years, and has a long long list of serious gigs in his resume, which is available at his page at congahead:
Chino's current freelance work includes his two groups: Kambalache Negro Negro is a Afro Peruvian Group, , and Son Con Timba is a salsa band.
We were absolutely knocked out by the Afro-peruvian stuff.
check out this video of Kambalache Negro Negro
The video is posted at CONGAHEAD, one of our favorite sites. Thanks to Martin Cohen for all his hard work in that domain.
You can contact Chino Bolanos by writing to
rumba.brava @ verizon.net
[remove the spaces and paste into your e-mail prgram.]
Cajon news _ The Plexiglass Cajon..
---
The Plexiglas Cajon was developed by Peruvian percussionist Roberto "Chino" Bolaños. The Plexiglas Cajon is Approximately 10"x12"X17 and it is a couple of pounds heavier than the traditional wood cajon, what is amazing about this newly invented instrument is that the sound that comes out of it is equal or better than the wood traditional cajon. It has been tested by professional percussionists who work on regular basis with a cajon world wide, and the feedback has been very positive.
It looks great from here. Soon I understand it will be commercially available through LP. "Go, Chino! while you are at it, send us one, so we can do a full review! LOL.." (stu)